Welcome to the Official BALPEX website!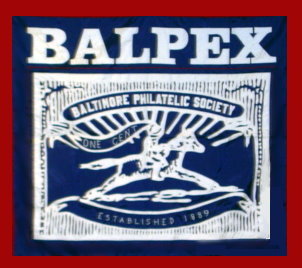 ANNOUNCING

The 80th Annual Stamp Exhibition and Bourse on
August 31, September 1 & 2, 2018
Friday and Saturday 10am until 6pm
Sunday 10am until 3pm
BALPEX is a World Series of Philately Show
BALPEX Exhibits:
BALPEX 2018 Exhibits
click the link below and then print a copy of the prospectus
for BALPEX 2018
BALPEX 2018 Entry Form and Prospectus
Hotel:
Delta Baltimore Hunt Valley Inn
245 Shawan Road, Hunt Valley, Maryland 21031
I-83 at Shawan Road
Exit 20 East
Free Parking
BALPEX Awards Presentatiom:
Sunday
September 2, 2018
9:00 a.m.
Salon A
Hunt Valley Inn
Convening Societies:
ROSSICA Society of Russian Philatelity
The Vatican Philatelic Society
and the
Eire Philatelic Association
Regional Meetings of the following Societies and Clubs:
American Topical Association (ATA)
Chesapeake Cinderella Club
George Washington Masonic Stamp Club (GWMSC)
Germany Philatelic Society (GPS) - Chapter 16
International Philippine Philatelic Society (IPPS)
BALPEX 2018 Jury:
Nancy Clark - Chairperson
Admission:
Admission: $5.00 for all three days.
click below then print the coupon for

Friday and Saturday: 10:00 a.m. – 6:00 p.m.
Sunday: 10:00 a.m. – 3:00 p.m.
Free admission on Sunday
for seniors 60 plus and young philatelists 16 and under.
Philatelists under 16 must be accompanied by a parent or
adult guardian at all times.
For more information on BALPEX 2017
call 410-465-5712
or e-mail: balpex@verizon.net
Home | History | Baltimore Philatelist | Calendar | Membership | Balpex | Links | Contact Us
Website Design by Coastalwebservices.net